Sofia Airport Departures (SOF)
Not all flights may be showing. If not available use search above to find your flight by airline, airport or flight number.
Destination
Airline
Flight no.
Scheduled
Est./Actual
Status
Wroclaw (WRO)
Ryanair
FR3620
04:35
Scheduled
Tivat (TIV)
EGT Jet
EGT368
05:30
Scheduled
Tel Aviv (TLV)
Ryanair
FR2825
06:00
Scheduled
Brussels (BRU)
Bulgaria Air
FB407
06:00
Scheduled
Antalya (AYT)
Corendon Airlines
XC5024
06:25
Scheduled
Barcelona (BCN)
Wizz Air
W64405
06:25
Scheduled
Warsaw (WAW)
LOT
LO634
06:30
Scheduled
Berlin (BER)
Ryanair
FR1149
06:35
Scheduled
Vienna (VIE)
Austrian Airlines
OS798 expand_more(1)
06:45
Scheduled
Vienna (VIE)
TAP Air Portugal
TP8714
06:45
Scheduled
Valencia (VLC)
Wizz Air
W64409
06:55
Scheduled
Munich (MUC)
Lufthansa
LH1705 expand_more(1)
07:25
Scheduled
Munich (MUC)
TAP Air Portugal
TP7549
07:25
Scheduled
London (STN)
Ryanair
FR2691
07:35
Scheduled
London (LTN)
Wizz Air
W64305
07:40
Scheduled
Bucharest (OTP)
Tarom
RO298 expand_more(2)
07:45
Scheduled
Bucharest (OTP)
Air France
AF6622
07:45
Scheduled
Bucharest (OTP)
Bulgaria Air
FB1808
07:45
Scheduled
Bari (BRI)
Wizz Air
W64361
07:55
Scheduled
Varna (VAR)
Bulgaria Air
FB973 expand_more(2)
08:30
Scheduled
Varna (VAR)
ITA Airways
AZ6032
08:30
Scheduled
Varna (VAR)
Qatar Airways
QR5548
08:30
Scheduled
No flight departures were found at Sofia Airport.
Flight Departures at Sofia Airport
Sofia Airport (SOF or ICAO code LBSF) is located just 10 km from Bulgaria's capital city Sofia, easily reached by rental car or public transport. The airport lies east of the city, at bul. "Christopher Columbus" 1, 1540 Sofia (Flight Information line +359 2 937 2211 or ext. 2212 / 2212). 
Metro Line 1 runs from 5.30 am to midnight every day of the week. If you arrive at Central Bus Station or the main railway station, you can use Metro Line2, changing at Serdika Metro Station for Metro Line 1. The Metro station at Sofia Airport is located at Terminal 2, at the eastern end of the building. Terminals 1 and 2 are linked by train and bus. See more about trains to and from Sofia Airport here.
Bus Line 84 links to Sofia Airport from the city center at Gen. Gurko St, travelling along Christopher Columbus Blvd to reach the airport's terminals. Bus Line 184 also connects to Sofia Airport. Bus lines 84 and 184 run all day into the Urban Mobility Centre at the airport and take about 45 minutes during the week, and 35 minutes to arrive at weekends and during public holidays. See more about buses to and from Sofia Airport here.
Numerous companies offer car rental from and into Sofia Airport, including Budget, Europcar, Enterprise, Firefly and Thrifty. Car rental desks are located at both terminals. Instructions on how and where to return rental vehicles are included in the confirmation vouchers customers receive upon booking.
Taxis are also readily available, see more about taxis at Sofia Airport here.
At Sofia Airport passengers have a choice of more than 65 airlines, including destinations to Amsterdam, Dublin, London, Paris, Warsaw and Varna in Bulgaria. At Terminal 2 there are 4 desks for electronic passport control, which EU citizens can use with their biometric passports. 
If you've stayed outside Sofia: trains from Bansko, Burgas, Plovdiv, Pleven, Shumen and Vraca run all day into the Sofia main railway station. Tickets can be purchased from vending machines inside stations. Be sure to check travelling times to Sofia Airport: a train from popular Plovdiv for example can take anything between 2.5 hours to over 3 hours. Ticket prices start from 8.00 BGN for a single fare from Plovdiv.
Was your flight delayed or cancelled?
You may be eligible to receive up to 600 EUR compensation per person in your party..
Claim Now!
Beat the Queues
Don't stand sweating for 45 mins waiting for Security. Get a fast track and get through in 5 mins or less.
Book now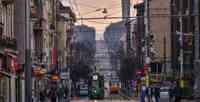 Things to see and do in and around Sofia, Bulgaria