Sofia Airport Arrivals (SOF)
Not all flights may be showing. If not available use search above to find your flight by airline, airport or flight number.
Origin
Airline
Flight no.
Scheduled
Est./Actual
Status
Dubai (DXB)
flydubai
FZ1757 expand_more(1)
03:15
Delayed
Dubai (DXB)
Emirates
EK2228
03:15
Delayed
Belgrade (BEG)
AirSERBIA
JU122 expand_more(2)
03:40
Scheduled
Belgrade (BEG)
Air France
AF3830
03:40
Scheduled
Belgrade (BEG)
Bulgaria Air
FB1820
03:40
Scheduled
Kerkyra (CFU)
Ryanair
FR1235
03:40
Scheduled
Catania (CTA)
Ryanair
FR5036
03:40
Delayed
Zurich (ZRH)
Bulgaria Air
FB492 expand_more(1)
04:00
Scheduled
Zurich (ZRH)
Qatar Airways
QR5546
04:00
Scheduled
Wroclaw (WRO)
Ryanair
FR3621
04:10
Scheduled
Zurich (ZRH)
EGT Jet
EGT373
04:27
Scheduled
Dusseldorf (DUS)
Eurowings
EW6970
04:35
Scheduled
Edinburgh (EDI)
Ryanair
FR5160
05:10
Scheduled
Frankfurt (FRA)
Bulgaria Air
FB438 expand_more(1)
05:20
Scheduled
Frankfurt (FRA)
Qatar Airways
QR5560
05:20
Scheduled
Antalya (AYT)
Corendon Airlines
XC5023
05:25
Scheduled
Memmingen (FMM)
Wizz Air
W64340
05:30
Scheduled
Warsaw (WAW)
LOT
LO633
05:45
Scheduled
Varna (VAR)
Bulgaria Air
FB978 expand_more(2)
05:50
Scheduled
Varna (VAR)
ITA Airways
AZ6033
05:50
Scheduled
Varna (VAR)
Qatar Airways
QR5552
05:50
Scheduled
Antalya (AYT)
European Air Charter
H6536
05:51
Scheduled
Vienna (VIE)
Austrian Airlines
OS797 expand_more(1)
06:00
Scheduled
Vienna (VIE)
TAP Air Portugal
TP8703
06:00
Scheduled
Eindhoven (EIN)
Wizz Air
W64326
06:10
Scheduled
Treviso (TSF)
Ryanair
FR6428
06:10
Scheduled
Munich (MUC)
Lufthansa
LH1704 expand_more(5)
06:40
Scheduled
Munich (MUC)
Air Canada
AC9375
06:40
Scheduled
Munich (MUC)
All Nippon Airways
NH7890
06:40
Scheduled
Munich (MUC)
Swiss
LX3818
06:40
Scheduled
Munich (MUC)
TAP Air Portugal
TP7544
06:40
Scheduled
Munich (MUC)
United Airlines
UA9134
06:40
Scheduled
Brussels (CRL)
Wizz Air
W64328
06:55
Scheduled
No flight arrivals were found at Sofia Airport.
Flight Arrivals at Sofia Airport
In 2019 more than 7 million passengers travelled to Bulgaria, using Sofia Airport. The airport has excellent public transport connections to the city of Sofia, and beyond to Plovdiv, Burgas, Bansko and other tourist hot spots.
Arrivals at Sofia Airport come from all parts of the world, including Amsterdam, Copenhagen, Dortmund, Bristol, Paris Beauvais, Malta and Dubai. Airlines using Sofia as their gateway into Bulgaria are, among many others, Easy Jet, Ryanair, Wizz Air, Serbia Air, British Airways, Lufthansa, Air France, FlyDubai and Enter Air.
When you arrive at Sofia Airport you will be asked to show a passport or other ID and a Visa, if you are not a Bulgarian or EU citizen. At Terminal 2 there are 4 desks for electronic passport checks, which can be used by EU citizens with biometric data in their passports.
Electronic displays show passengers where to collect their baggage. Baggage Reclaim is located right after passport and visa control.
If your baggage is lost, you can go to the Lost & Found desks:
Sofia Airport EAD deals with airlines Air Berlin, Air France, Austrian Airlines, British Airways and El Al at Terminal 2 (tel +359 2 937 3555, +359 2 937 3554). Swissport Bulgaria AD, Terminal 2, deals with Bulgarian Air, Lufthansa, Air Malta baggage (tel +395 879 978 210), email sof.lostandfound@swissport.com.
Terminal 1's Lost & Found deals with airlines EasyJet and Wizz Air, tel +359 2 937 3903.  
Buses leave from the Urban Mobility Center. Bus lines 84 and 184 link to Sofia City in ca 45 minutes on weekdays and 35 minutes at weekends/holidays. They arrive at Gen. Gurko St. Metro Line 1 connects SOF with the city in 18 minutes. Transfers between terminals 1 and 2 are free for passengers with onward travel arrangements. Ask at the Transfer Desk for assistance. The Metro station is located at Terminal 2. 
The car rental companies at Sofia Airport are located in the Arrivals area of both terminals, right after customs control. Branded names include Budget, Enterprise Rent A Car, Europcar and Firefly.
Was your flight delayed or cancelled?
You may be eligible to receive up to 600 EUR compensation per person in your party..
Claim Now!
Beat the Queues
Don't stand sweating for 45 mins waiting for Security. Get a fast track and get through in 5 mins or less.
Book now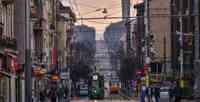 Things to see and do in and around Sofia, Bulgaria