SOFIA AIRPORT (SOF) INFORMATION
Origin
Airline
Flight no.
Scheduled
Est./Actual
Status
No flight arrivals were found at Sofia Airport.
Destination
Airline
Flight no.
Scheduled
Est./Actual
Status
No flight departures were found at Sofia Airport.
Car Hire at Sofia Airport
UNBEATABLE VALUE CAR RENTAL
Free Amendments | Free Cancellations | No Card Fees




Sofia Airport - All Information on Sofia Airport (SOF) Sofia Airport
1, Christopher Columbus Blvd., 1540 Sofia, Bulgaria
phone +35 (92) 937-2211
emailForm on Official Site
emaillost_items@sofia-airport.bg (Lost+Found)
call_end+359 (0)2 937 20 10 (fax)
Facts and History about Sofia Airport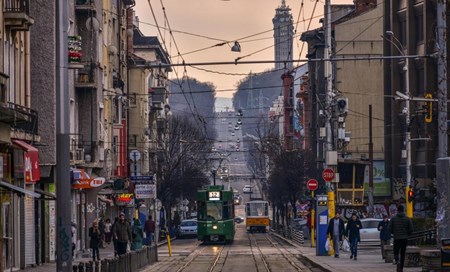 Located just 10km east of the beautiful Bulgarian city of Sofia, the country's capital, Sofia Airport offers passengers more than 60 airlines with destinations all over the world. It is a starting point for well-known airlines like Qatar Airways (Doha/Bucharest Otopeni) and Ryanair, Lot Polish Airlines (Warsaw) and Wizz Air. Other destinations include Rome Fiumicino, Tel Aviv, Vienna, Paris Charles de Gaulle, Bulgaria's own seaside city Varna and Athens via Aegean Airlines.
Public ground transportation and car rental are available in plenty of options: There are several car rental companies at Sofia Airport located at both terminals 1 and 2, situated immediately after passengers pass through customs control.
A Metro train station is located at the eastern end of Terminal 2. Passengers only need to follow the markings on the floor and signage. Metro Line 1 runs throughout the day, taking ca. 18 minutes to central Sofia. Changing from Line 1 to Line 2 at Serdika Metro Stations allows passengers to reach the city's Central Bus Terminal and Railway station in less than 30 minutes.
Sofia Airport's train services and Metro Line map are available at www.metropolitan.be/en. Trains run to Plovdiv, Pleven, Burgas, Vraca, Shumen and Bansko on a regular basis.
Sofia Airport's bus connections to the city are also excellent. Number 84 bus connects the two terminals (free to use for passengers with boarding passes) and to the city (Gen. Gurko Street). Bus Line 184 also connects to Gen. Gurko Street from both Terminal 1 and 2. Tickets are available from the Urban Mobility Center inside the terminals. Vending machines take both coins and banknotes in Bulgarian Levs currency. Exchange rate is 1.00 Euro = 1.96 BGN (February 2021).
Parking at Sofia Airport takes place in two parking facilities, providing ca 1,200 parking spaces, indoors and uncovered. Prices start from 45.00 BGN for 7 days.
The official address of Sofia Airport is: Bul. "Christopher Columbus" 1, 1540 Bulgaria, tel +359 2 837 2211 (Flight Information lines also include +359 2 937 2212 and x 2213). Coordinates: 42º41'42"N 023º24'30"E.
Arrivals, Departures and Airlines at Sofia Airport
Hotels near Sofia Airport
There are a number of hotels to suit all budgets and requirements at or near Sofia Airport .
Additional Services and Amenities at Sofia Airport
At Sofia Airport you will find the usual array of bars and restaurants, airport lounges and shops.
Things to do in Sofia
There are a number of activities to suit all ages and interests in the region - see a selection of tourist activities in Sofia City, Bulgaria.
Services at Sofia Airport
Useful Information about Sofia Airport